Finally got out into the great outdoors this weekend to give the Peak Design CapturePOV Mount a shakedown, bringing it out to a 'secret' river somewhere near Mt. Adams to fling some feathers and down some bourbon.
FIRST IMPRESSIONS
When I first got the package in the mail I thought damn, this is far heftier than expected.  I guess since they launched with a Kickstarter and the product is made in China I was just expecting another round of junk kicked out by crowdfunding, but I couldn't have been more wrong.  The CapturePOV Mount is made of aluminum and glass reinforced nylon and feels substantial and every bit as rugged as you'd hope something would that you are trusting with your $400 first world adventure recorder (it's worth noting that their CapturePRO intended for SLRs is 100% aluminum and is likely burly enough to take down a small animal when used as a throwing device).  It was also very apparent from the get go that Peak Design has put a lot of thought into the details – from the packaging to the product everything was very well done and gave off a feel of quality.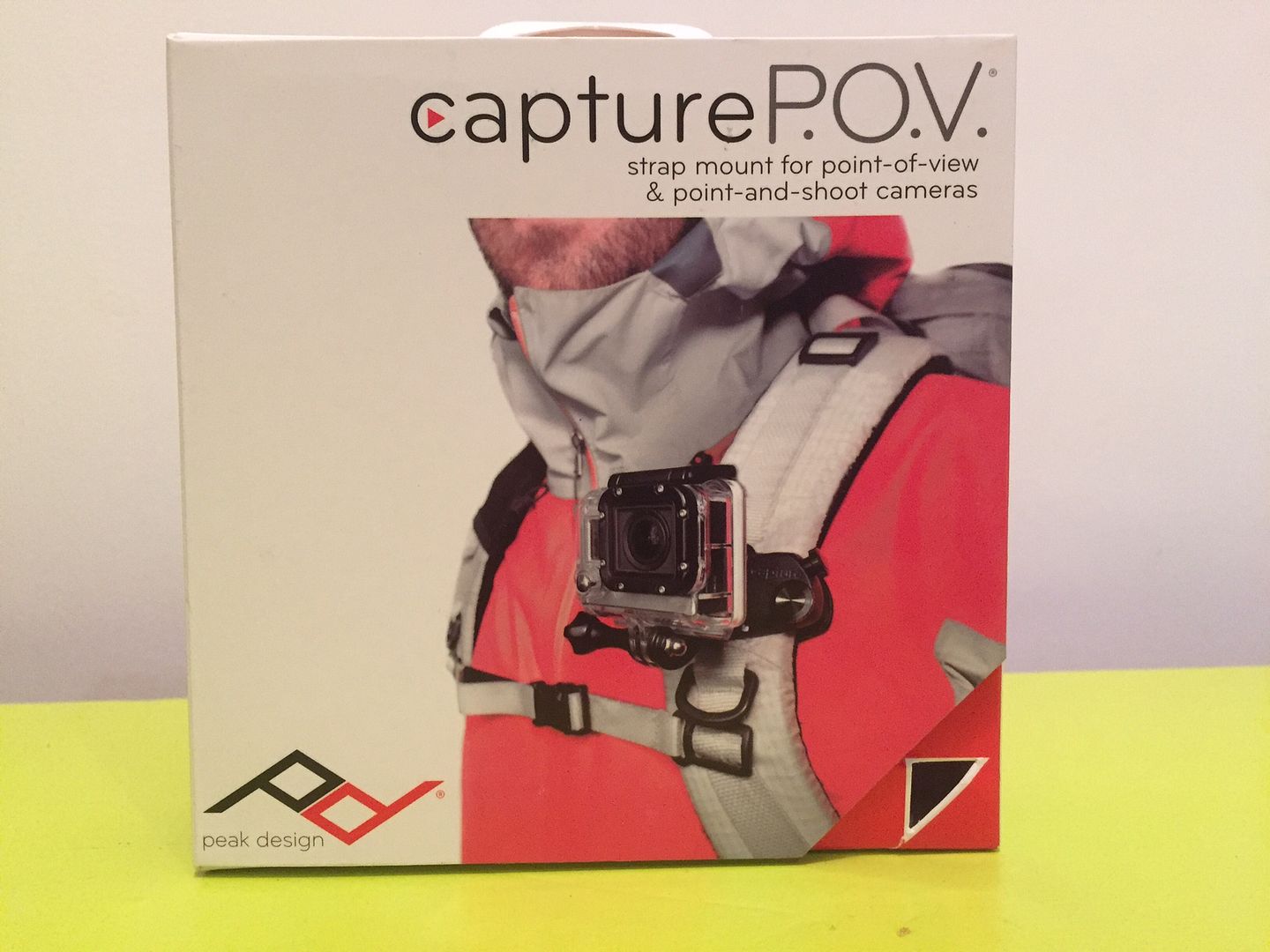 IN USE
In use the Peak Design CapturePOV exceeded expectations.  After a quick looksee at the instructions (I know I know, my man card was immediately revoked) to make sure I was using everything properly the PD was on my strap and capturing footage.  Getting started is easy – you mount your camera to the provided mounting plate, click it into the clip and then secure the clip by using the thumbscrew.  To remove your camera unscrew the thumb screw and click the red button.  One thing I really liked was the included J-arm as it allows you to adjust not just where your camera is aimed vertically but also laterally – and with the screen on the GoPro Silver it took all of 2 seconds to adjust aim on the move as needed.
One of my initial concerns with the CapturePOV was that it's heft was going to overpower my shoulder straps but it appears as if the Peak Design crew already considered that.  Inside the package is a 'stabilizer pad' (seen lower left in the above photo) that you use as a backing for the capturePOV and helps add structure behind the clip in the case your backpack straps are more UL daypack and less overnight/multiday.
Another thing I wondered upfront (and the personal jury is still out on) is how the angle would be capturing snowboarding as by nature the capturePOV is always going to be offset to one side (though I guess you could mount on the sternum strap….).  It could be that it captures better on your lead shoulder vs. your rear, or it could be that it doesn't make a difference.  The below video of flyfishing gives you a feel for the angle it captures in a typical mounting location.  You can definitely tell it's offset, but I think with the angle the GoPro provides you can offset the offset by slightly pointing your camera's lens towards your body centerline.
The only potential issue I noted during my time using the CapturePOV was that the screws that tighten the clip to the stabilizer pad or direct to the backpack strap seemed to come loose often.  They never were loose enough to lose the clip, but I also checked every hour or so as I lost a prior POV camera on a drunken urban snow mission a few years back.  Had I not who knows.  Worth keeping an eye on if you pick one up.
Overall I'm impressed with the Peak Design CapturePOV and think it's a worthwhile piece of kit for if you find yourself taking your GoPro or other small camera into the backcountry often.  It's worth the price of admission alone for splitting as it removes that additional layer of straps that the GoPro chest harness adds.  When you've already got a beacon and a backpack wrapped around you who needs another layer (though it does bring up the issue of electronics/beacon proximity interference…hmm…).  Anyways, check 'em out!