Well this came as a huge shock to me today.  Guess I haven't been paying attention but even Feathered Friends is now offshoring while claiming the ever so popular in the bike scene "engineered in…"  I guess now you're paying a premium price for their "engineering".  At least their factory workers got the logo right and didn't accidentally sew a swoosh on.  Looks like I'm out the $12 for shipping now cuz I believe this baby is going back.  No point in paying a premium for just another made in China piece of gear.
We have recently made the difficult decision to expand a small portion of our production to China.  With 40 years of domestic, in-house manufacturing and a loyal customer base that has come to equate that legacy with quality and craftsmanship this was not a decision we undertook lightly.  Please understand that we are not displacing our domestic production, we have actually increased output in recent years, but difficulty finding the highly skilled sewing labor that our products require coupled with a high demand for our lightweight garments necessitated that we expand production beyond Seattle. Our lightweight garment production still utilizes the exact same down and fabrics that are used in our Seattle production, with the same time-tested designs so quality is not compromised.  All of our sleeping bags and a large portion of our garment line will continue to be produced in our Seattle based facility and we will make every effort to keep you informed of any future changes.
Coming soon, my own brand of down jackets "engineered in Portland!"  I think I'm gonna call my company Tarred and Feathered Friends.  Sort of a double entendre there, tarred/tard.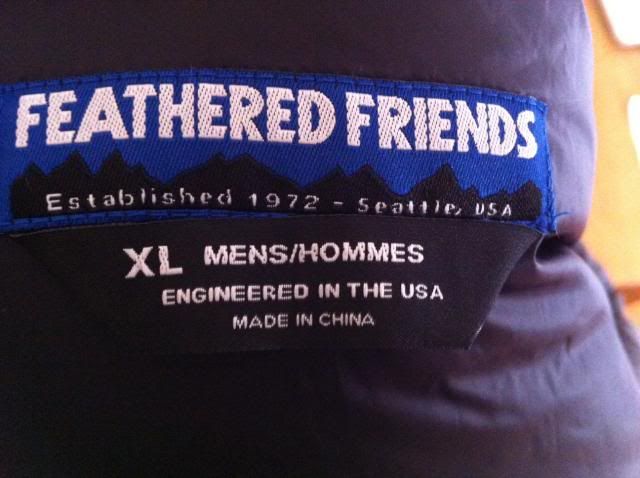 UPDATE:  I brought this back.  Kind of a pain and they originally didn't want to do it as their web and store retail are apparently separate.  2014 what?