Baker Splitfest was ridiculous. Between the weather, testing a theory on consecutive days you can eat pizza and while repeatedly stressing your liver, and the number of people that were there…just insane. Splitboarding has officially gone from beardo to brodown.
Short summary: Sunburns and cold smoke.
Long summary: Below. Holy shit can't believe I wrote that much.
Day 1: Was rolling Han Solo style from Portland so decided to break drive up into two short legs (even though straightlining Baker would take less time than the typical winter drive to Tahoe…). Tacoma, Parkway Tavern, 'nuff said.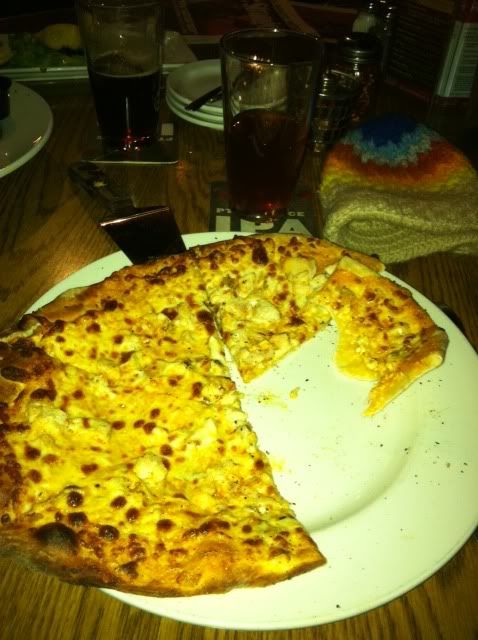 Day 2: Commuter hour wake up call as my buddy lives in Tacoma, works in Olympia. Hung out til 9:30ish on the assumption that all the commuters would be in their desks by the time I was near LaPNW. That whole assume ass/you/me thing rang true and dealt with PTSD flashbacks from my time in California (btw, legit LOLWTF at everybody that does a commute like that 2x a day 5x a week for reasons like 'I can afford a house'). The American dream – back 40 and white picket fence – is NOT worth that level of aggravation twice a day.
Just north of the U-district returned to normal cruising altitude and the first glimpes of the North Cascades, Baker, etc. reined in the blood pressure and voices in the head. Destination: Bellingham, Allsop factory and meeting Jeff Haley to finally be on the receiving side of 'first round in my town'. Chomped an insanely good burrito ('burritos in my barrio' is the midday workweek 'first round in my town') under crazy PNW blue skys on the Bellingham waterfront talking shop, looking at pics Jeff took of the big Baker avy, and just inhaling the salt air. Lunch done, time to check out a local brewery, Chuckanut Brewing, tasty, heavily German influenced (aka no IPA to be seen) beers.
Head up to Glacier tripping on the Nooksack river, that place just looks like there should be salmon and steelhead chillin' in every little hole. Stopped a few times but didn't see anything so dunno. Belly up to the bar at Chair 9 and see none other than a-man from Spectre of the Brocken. Pleasantries exchanged, beers chugged, uberbros made fun of. Mentioned I was going to go easy on the beers as I was planning on tenting it in the Baker lot and he offered up a spot in his hand whittled milled with his bespoke axe cabin in the woods. STOKED! The weekend was looking up.
Threw beers down our faces as fast as Yoga Pants and Holstergirl could serve them (which was not very fast, but they made up for their lack of speed in other ways) awaiting Laughing Guy's arrival. More 'first round in my town' checks cashed courtesy of Shaun A and Brian S! Run into Chris aka bcrider from splitboard.com for first time in years, siiick. Shoot the shit with Kyle for a quick second, hadn't seen that guy since he's gone big time. Siiiick. LG finally arrives, we Voltroned up to check out the upstairs happenings.
Upstairs. Upstairs deserves it's own chapter, bolded title and all. Remember the first time you discovered the Super Mario Bros. warp zone and just ended up in some crazy world you'd never imagined – like WTF all those mushroom dudes are now beetles? It was that x1000. 100+ other people enjoy suffering uphill for a few pow turns? Really? And the sheer number of demos available? Just insane. What kind of bizarro world am I in?
Jones had what appeared to be ~20 boards, including some carbon fiber topsheet/skunkworks looking ride. The guys from Arbor were there with a handful of boards as art, bamboo sidewalls and all. The crew from Chimera was there with some fun looking rides, and were cool cats to chat with. Mervin sort of showed up in their usual half assed form with one Lib and one Gnu. Prior was the star of the show by far, they blew the others out of the water and brought some next level demo game to the Splitfest. They had to have at least 20 boards there PLUS brandspankingnew 2013 Spark bindings AND new G3 skins for every demo board. What is that, $30k worth of inventory at retail? Prior brought their A-game and made the rest look like chumps.
Oh, and did I mention not only were they absolutely CRUSHING any new splitboard setup record time you've ever done (seriously, take the fastest time you've ever mounted your split bindings and they were doing that PLUS cutting new skins in less time) but they also had attractive wimmenz doing it? Genius. A-man said it better than I ever could on his report
Canadians don't fuck around with this shit: I couldn't believe my eyes! Maybe there's a national mountain lifestyle marketing seminar program all these people go through. I dunno. Government Coolness Subsidy? This style definitely works at Baldface, where ten dollar cans of Kokanee at the end of a 600 dollar snowboard day become somehow easily justified when they're being served by beautiful young women. Prior's fucking on it. Instead of a bunch of dorky me-looking dudes with one set of used bindings, they're represented by international model chicks in hot clothes with the most expensive demo fleet you've ever seen.
Insanity. More beers consumed, off to sleep and get ready for the main event.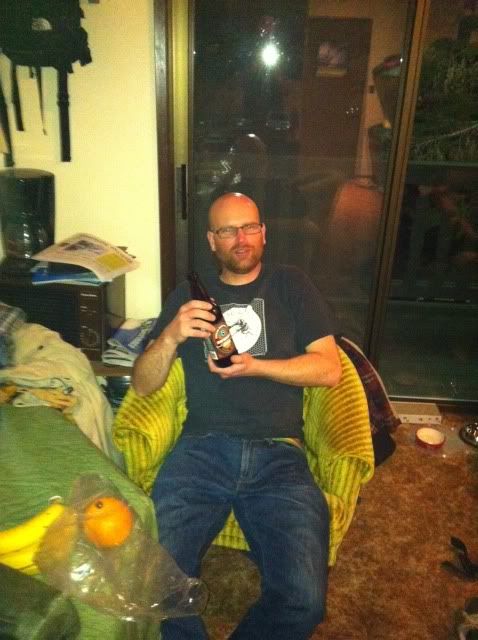 Day 3:
Hangover? Check.
Sunshine? Check.
Insane terrain everywhere you look? Check.
Pow? CHECK!
Saturday was ridonkulous. From Laughing Guy showing the world the benefits of EPO on the skin track to the conditions to the eight million other people to the sometimes 'interesting' skin tracks, just awesome. Was stoked to be on my first tour of year, but can't lie had the new crew + first tour of the year + some funky knee shit jitters going early on. Enough talk, a few pics.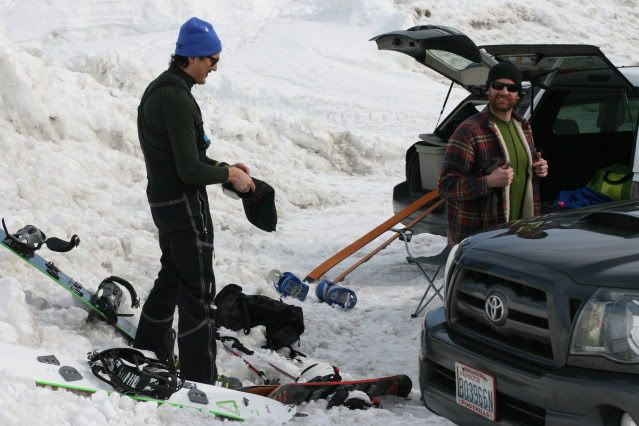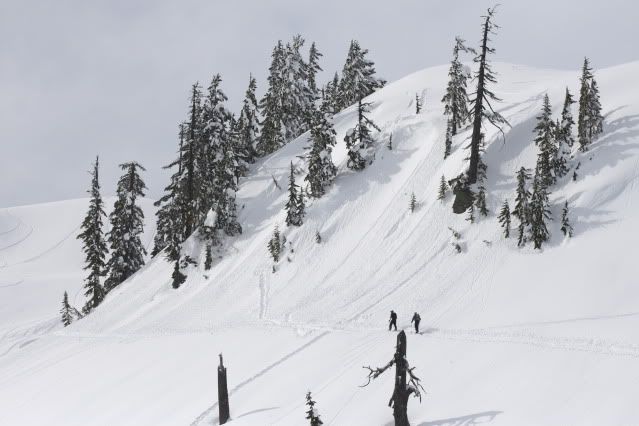 Insane views to be had around every corner, nook and cranny. Was hard to focus on what I was doing with all the insane zones layered upon zones on top of zones.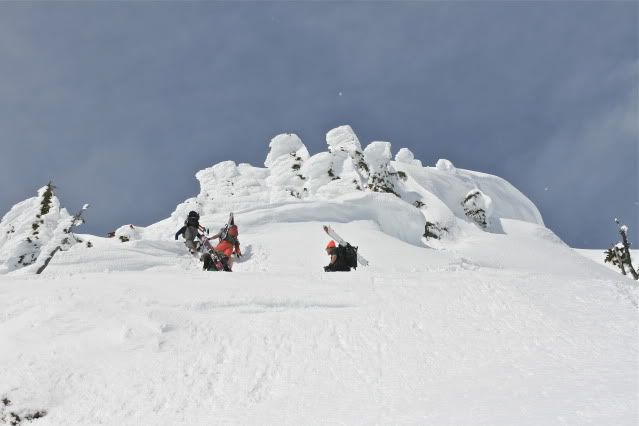 Inbetween lap #1 and #2 I sat around in the valley, cleaning the tape residue off my upper inner thighs and shooting shots of random people playing snowboards while waiting for the crew.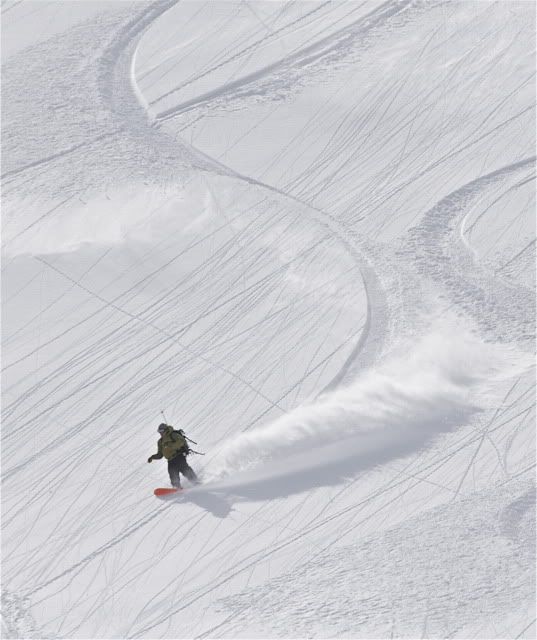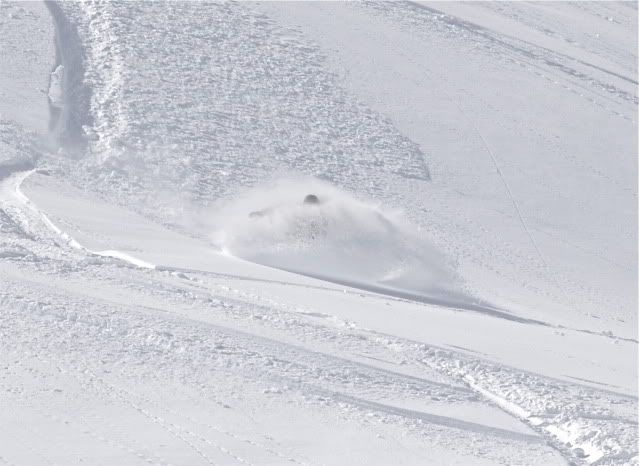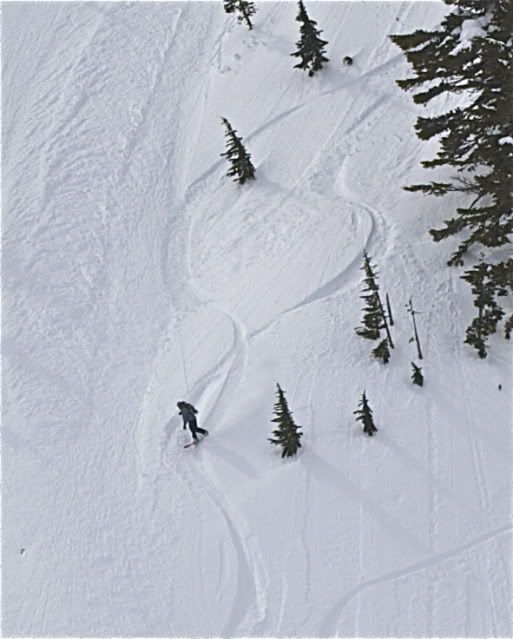 Reconvene with the crew, consume consumables named after other Cascade volcanoes, head up questionable skin track for lap #2.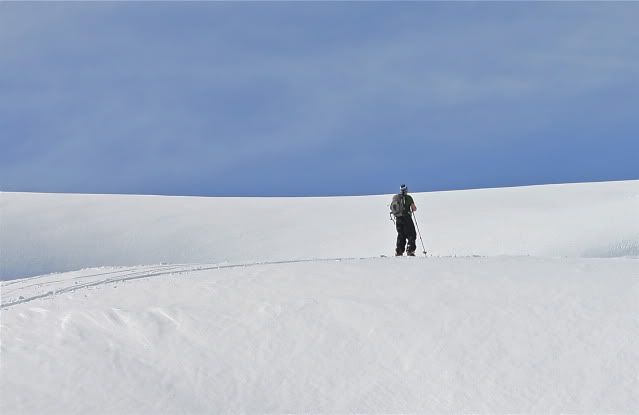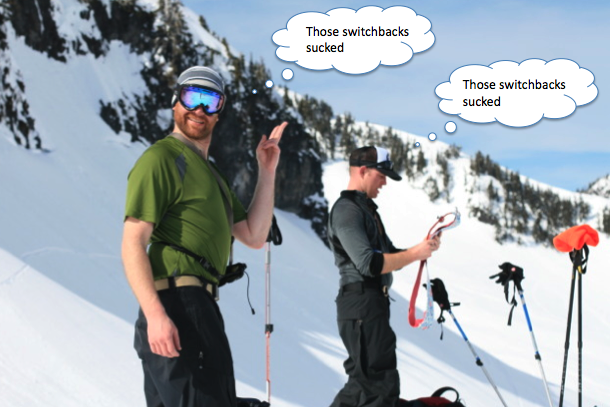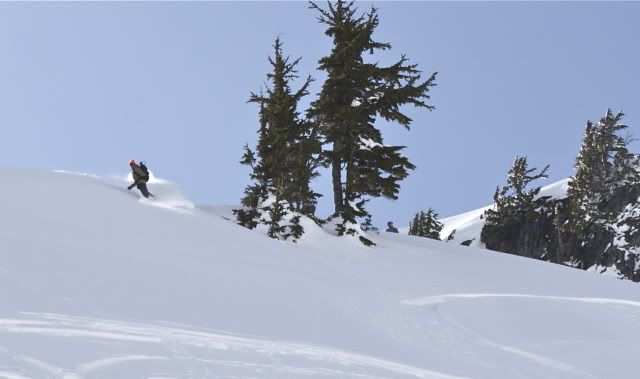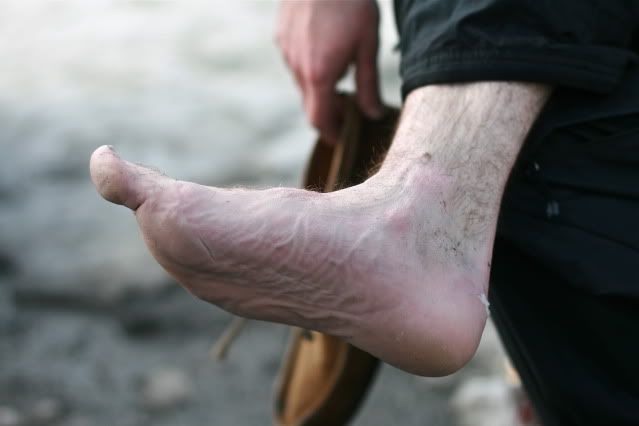 Shit, this is getting long. 2nd lap lapped, valley high-5s, more shared Cascade volcanoes, back to town to s/s/s, off to Chair 9 for pizza #3 on the weekend and insanity. Props to the employees there for not hulking up on the customers because it was NUCKIN FUTS up in the place. Had to be their biggest crowd ever.
After telling A-man and Laughing Guy all day that I've got mad raffle karma and I'm going to win a pair of Sparks and they were going to win new boards we got there just in time to buy tix, lube our shoulders and wedge into the crowd and watch the shit show. It's always amusing and disturbing to watch grown men play game 7 NBA Finals Dennis Rodman for t-shirts, waterbottles, chapstick and other tsotchkes. It's even more disturbing to watch it go on for an hour and a half. Go get your rebounds kid! Three or so numbers in, Laughing Guy's number is called! Rolls up to the insane table o'schwag and cops a pair of Voile Light Rail bindings. Siiiiiiiick! A few numbers later I'm called, roll up to the table o'schwag and get the Spark Blazes. Siiiiiiick, so stoked! I take one for the team and run back to the condo to drop our stuff off, roll back into the shit show and see that a-man won a BCA pack. Siiiiick. Raffle: slayed.
We decide that we're all least likely to broceed and head home for an early sleep. Next morn' roll out to Seattle for pizza(ish) #4 on the weekend and to hit Bottleworks for a few bottles of their 13th Anniversary Ale brewed by Stone.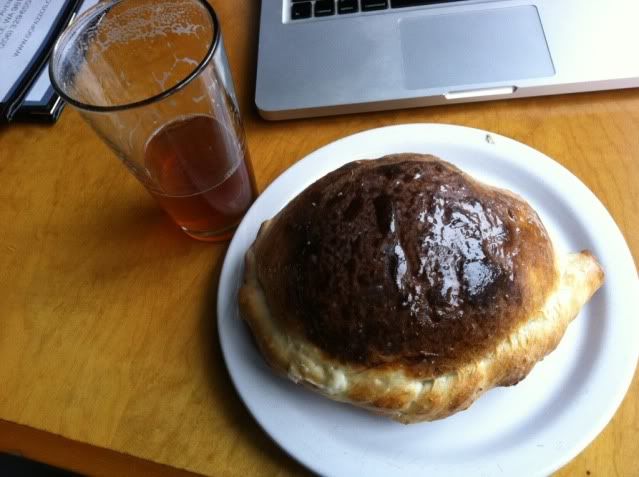 Good people, good snow, good beers, epic weekend is epic.