While the rest of us have been going about our regular 9-to-5s, the inhabitants of a parallel universe that consists of career bloggers, retail buyers, and retail buyer bloggers have spent the past few weeks at Outdoor Retailer, SIA (still going) and various other "I'll show you mine if you show me yours" events. Thanks to Gore's invention I've managed to cut out the travel and brodowns and am able to live vicariously through their expense reports. The below is a little something I spied while making the rounds through chatroulette and thought I'd share.
2013 Spark R&D bindings
It looks like the Karakoram competition has forced the Spark R&D guys to up their game and innovate yet again. For 2013 it looks like they've got a new mounting system they are calling the Edison Interface. Hard to see how it works from the photo, but based on where the screw heads are I think it's safe to say it's NOT just held in place by the head of the screw. (Note: that blue plate looks reminiscent of the old Burton interface, no?)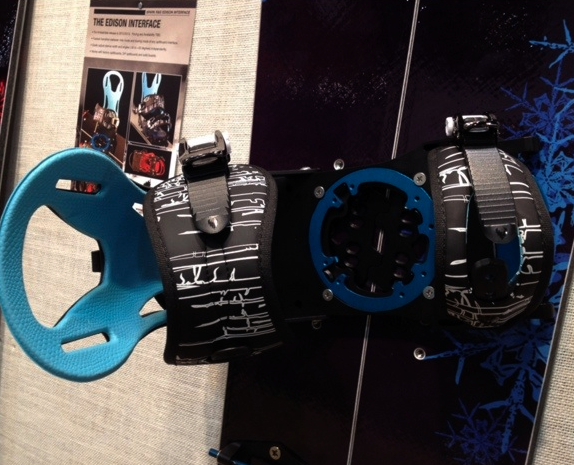 In their non-Edison bindings I spy a lightened heel area and possibly a considerably lightened base plate. Not sure if the white/black binding is one using the Edison interface or if it's a lightened non-Edison binding.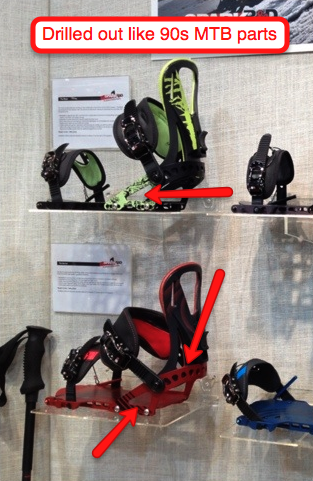 Standard interweb disclaimer:  The above binding photos are not mine and were all stolen borrowed from Shay at Shayboarder.com, who has A-game snowboard blogger status, so make sure you check out here site, follow her on twitter, and just generally show her some love.