It's that time of year. Turned the heater on this AM for the first time since….March? Reading through the twitters and I see there's some snow forecast for Utah, a winter storm warning above 8k in the Sierra, and a dusting falling right now at Timberline. At least at my house when I step outside the air has that crisp smell of fall, not quite that winter 'sting your nostrils' crispness, with the warm sweetness of decaying leaves that hints at starting to see snow in the hills. Time to kick the summer doldrums dust of this blog and get'er back on track! Over the next few days will highlight the various splitboard offerings for 2011-2012.
If you've been paying any sort of attention you know that this year is the year splitboarding goes uber-mainstream, with all the good and bad that comes with soon to follow. Like hipsters and their bands, crusty beardos will undoubtedly bitch about how splitboarding was better when nobody knew about it and gear had to be fabbed at home – and they'll be part right. Given that snowboarding gets marketed as far more style over substance these days it's only a matter of time til we see 'pro model splitboard headphones' (ya know, to keep out those annoying nature sounds). In the end splitboarding and backcountry touring IS damn fun, but it's also hard, which makes it self-regulating. The fact that most of the world is inherently lazy will help keep the backcountry experience from falling into the 'Red Bull helicoptered, hotel lobby douchebaggery' cliché that seems to swallow every other action sport these days. In the end the silver lining to this 'little secret' getting out is that as those consumer dollars come in we should see more innovation, not just in boots, boards and bindings, but in rescue gear as well – and next year we should see some screaming deals on 'used once' splitboards and Spark bindings! Anyways, I'm rambling. Let's start this look at 2011-2012 splitboards off with a peek at the offerings from Venture Snowboards (which is odd for me as I rep the PNW to the fullest, when you cut me I bleed Sonics colors, but as they were the first to respond to my request for information last spring they get the first post!).
If you're unfamiliar with Venture read their story here, a blurb of which is below.
Venture is a small, independent snowboard manufacturer, nestled in Colorado's remote San Juan Mountains. Owned and operated by the husband and wife team of Klemens and Lisa Branner, the company is dedicated to handcrafting high performance snowboards and splitboards while minimizing environmental impact.
Between their humble start and environmental ethos (their entire operation has been windpowered since 2004) it's a company worthy of consideration for your dollars.
Venture Odin Splitboard
First up for 2011-2012 is new to their lineup and the board that is of most interest to me, the Venture Odin. I have fond memories from ~96 or so of the snappy flex pattern on the old Burton Johan (the old blue sparkle topsheet with the smoke pattern on it), and for that reason alone I want to try this board (if anybody wants to trade my S-series or Prior BC for their Odin ping me). Flat between the feet with a rockered nose and tail, the Odin should be a big mountain pow slayer, and was a Backcountry Magazine Editors' Choice winner for 2012.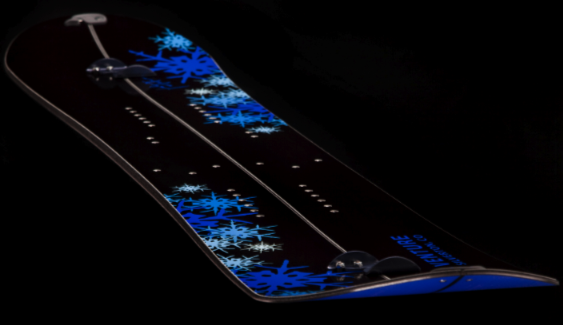 "Surfs the fresh and boosts effortless airs over even the smallest features…When the stakes are high, you want the Odin underfoot." ~ Backcountry Magazine
Venture Storm-R splitboard
Next up is a board that was new in 2010, with slight revisions to the flex for 2011. A Backcountry Magazine Editors' Choice winner in 2010, the Storm-R was Venture's first foray into rockered splitboards. A tapered board with a wider, soft nose the Storm-R aims to give you that surfy feeling in pow that first turned you onto snowboarding
Venture Zephyr-R splitboard
Another one that's been in their line for two years, the Zephyr is Venture's do it all quiver killer. "Twice named a Future Snowboarding "Most Valuable Product" and a Backcountry Magazine Editors' Choice in 2011, this award-winning design is the flagship of the Venture line." Like all their boards this year the Zephyr is flat between the feet and rockered in the nose and tail.
Venture Helix-R splitboard
The Venture Helix is Venture's take on a freestyle oriented splitboard. A rockered, true twin tipped shape with the softest flex in their lineup made for those that view the backcountry as their park.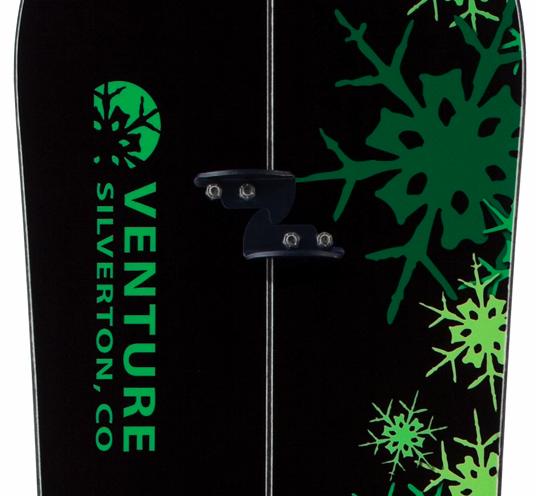 All of the Venture splitboard retail for $895 with no hardware or climbing skins. Also note that these photos DO NOT do their boards justice and they have a sick, understated beauty in real-life – check 'em out at your local shop!
In case you're unfamiliar with Venture here's a vid