Still trying to figure out pricing.
First up, 8'6 Pearson Arrow
-8'6 x something x something x something (will try and decypher it later)
-Was originally shaped for an ex-girlfriend's birthday, basically this is a longboard for a smaller individual
-Hand shaped by Bob Pearson (not his ghost shapers – though not that Dane and others didn't make some nice boards!))
-Clark Foam (yup, pre-shutdown, get your Clark Foam fix)
-Can be ridden as a single or tri setup
-Surfed maybe 5x total
-Blue spray (not resin tint) with floral nose patch
-Couple pressure dings/tiny spiderweb in a spot or two, what you'd expect to see after a few surfs
-Would trade for a 6'4+/- keel or twinzer fish (looking for a high volume/wider as opposed to one that's more towards perf shortboard shape) or a heavily glassed pig or maybe some other longboard (tho I have a few already so will be kind of picky)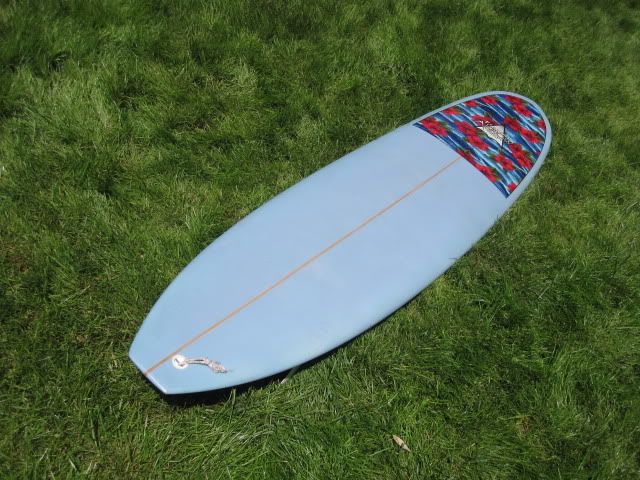 Next up, Creme Stiletto. Originally bought this to resell to Japan because they love this kind of shit. Surfed it once, surfs actually REALLY nice, but I just don't need a board worth this much.
-Creme/CJ Nelson/Paul Frank (yes, seriously, the monkey tee shirt guy) collaboration
-9'9 x something x something – will have to drag it out and check
-Only 50 made, originally sold as part of an art show/fundraiser 'Only about 6 out of 50 were still unsold when the show started. I think all but one of those sold as well. Sales price on all 50 was $3500.'
-Jim Phillips/Robbie Kegel shaped
-All resin work
-Comes with matching Paul Frank branded bag, wallet, t-shirt (srsly)
-Rakuten is selling one for a GRIP without the other collectibles (huhlooo Japan!)
-Old photos of some D-bag holding the board below
Looking for something else?