It's been awhile since I've done any gear reviews. Between a move back to the Pacific Northwest, working on getting a startup off the ground and enjoying the local beer scene I haven't been outdoors as much as I'd like outside of daytrips v. last summer when I spent every weekend somewhere in the Sierra. So, first up in a list of long overdue reviews is this review of the Mountain Hardwear Phantom 32 bag.
Overview
Their most popular down bag, the Phantom 32 is one of the many bags Mountain Hardwear makes at this temperature rating. Every bag in the Phantom line is targeted more towards the fast and light crowd due to their use of weight saving 800 fill down and .85 oz./yard nylon shell and design considerations such as a snug mummy cut and 2/3 length zipper, and this one is no different. The Phantom 32 comes in at 1 lb. 8 oz. (11 oz. of which are down) for the long version (at 80″ the long gets you 6″ more inside length, 2″ more diameter in the shoulders and the footbox), weighing in less than a similarly rated Montbell Down Hugger #3, and only a few ounces more than the UL crowd uber-hyped (and IMO uber-ridiculous, though admittedly I've never tried one so for all I know they could be the bee's knees) Jacks R Better quilt.
A few other details (and when it comes to bags the devil really is in the details) of the Phantom 32 that may get missed when glancing the racks at your local retailer are:
• Tight 5″ baffle spacing creates optimal loft
• Lightweight two-way zipper for easy entry and exit
• Six-chamber hood design maintains even loft around head for consistent warmth
• Down-filled face gasket comfortably blocks drafts at the hood opening
• Ergonomic draft collar blocks the escape of heated air from inside the bag. The two-piece collar drapes naturally over neck and shoulders creating a soft comfortable seal. Two draw cords can snug down as needed to secure the collar.
• Insulated draft tube with anti-snag panel prevents cold spots along zipper
• Comfort Footbox follows natural foot position for maximum warmth and comfort
• Single-handed drawcords simplify adjustments
• Nylon mesh storage sack and stuff sack included
Build
Overall, the Phantom 32 feels well built and similar to other mainstream manufacturers high-end bags. I wouldn't say it has the same quality feel of a more boutique brand such as Western Mountaineering or Feathered Friends, but overall it's a well built and on par with its peers.
Performance thus far
I was a bit hesitant when deciding on this as my two/three season bag as I tend to sleep warm and went back and forth on the 32 v. 45 bag, and also wasn't sure if I'd be too constrained by the fit on hot summer nights. I liked the thought of the weight savings and pack space savings v. my (realllly) old synthetic bag and ended up deciding to go with the 32 as worst case scenario I could use it as a quilt over me if I got too hot. In the end I'm glad I did. The stuffed size of the bag is ridiculous (check the pic below!), and it's significantly warmer than my old '30 degree' synth bag – which actually came in handy on an unexpectedly cold night in the alpine a few weeks back.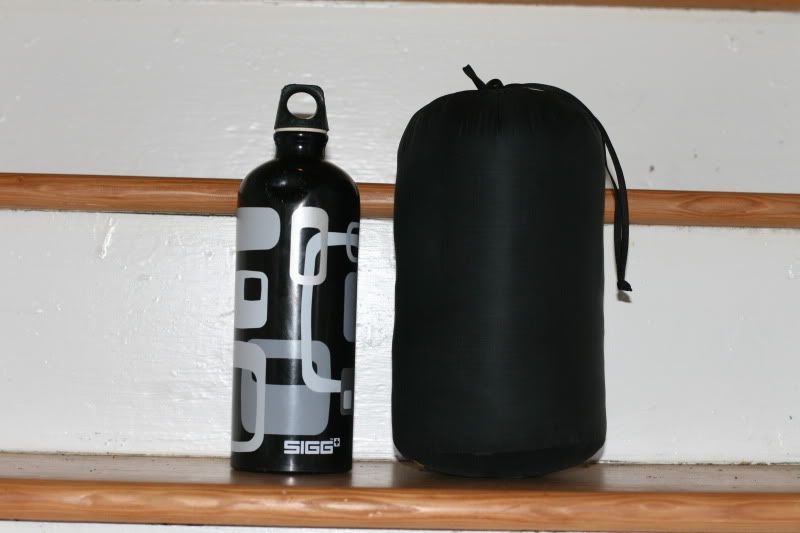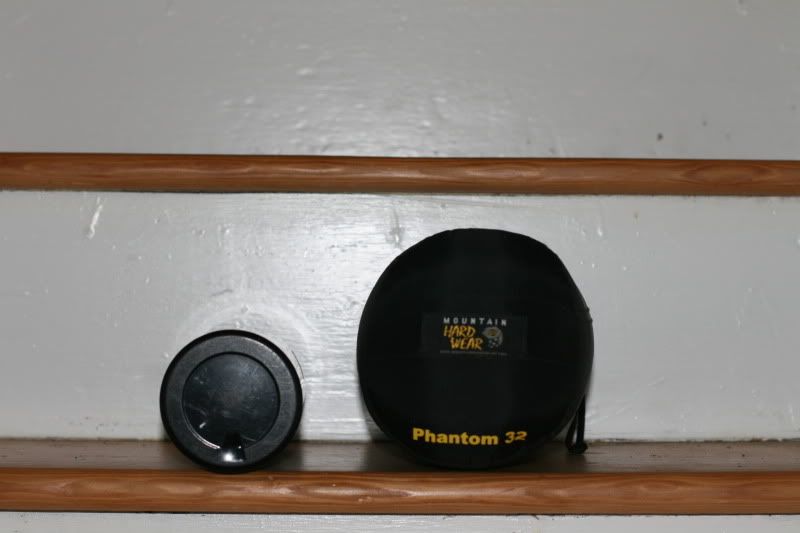 Another hesitation I had when deciding on this bag was the fact that I knew I'd be eventually relocating to the Pacific Northwet, and down and rain don't typically play well together. I actually slept under only a small tarp (rainfly from a Hennessy Hammock I couldn't setup due to lack of strong trees…) in a downpour and while the outside of the bag was damp due to condensation from my breath and the wind driving the rain under the tarp the DWR kept the bag from soaking through – though it's not something you'd want to do regularly, and especially not if you were expecting multiple days of rain with no chance to dry your gear if it did soak through.
Overall the bag has performed as expected, though I've yet to experience any nights near it's temperature rating. The only issue I've got with the bag thus far is the zipper. For some reason the damn thing doesn't want to let me out of the bag half the time, and the anti-snag panel doesn't live up to it's name. I'd gladly take another ounce of pack weight if it meant I'd get some stiffer material along the zipper to keep it from snagging the shell fabric as I'm worried that one day the snag is going to result in a tear. The shell fabric is wispy enough that you can hold it up to a bright light and essentially see through it.
That being said, if you're looking for a well made, lightweight bag that stuffs down to the size of a Nalgene bottle that regularly goes on sale for under $225 I'd definitely recommend taking a look at the Mountain Hardwear Phantom 32.
If you can't find it locally you can pick up the Mountain Hardwear Phantom 32 online at the usual suspects. Threw together the little widget below to hopefully help you find it on sale quickly.