After a 100 degree day, a half dozen and change Rainier and a pitcher or two of Bridgeport IPA the suggestion was floated to start our hike at midnight or so instead of 4 AM so that we'd miss most of the following day's heat. Genius suggestion, undoubtedly, though I didn't account for my buzz and inability to function well on a Tuesday when I last slept on a Sunday, and I thought I'd be laughed at for throwing it out there. I was right, I was laughed at, but then they came around, we finished dinner, had a few more cans of Yakima Valley hops refreshment named after another Cascades volcano, packed up and headed to Climbers Bivouac.
Not a lot of photos in this TR as my camera bag harness is in storage and I only have an ultrawide angle lens at the place I'm currently staying, but here are a few in case you're considering the trip yourself.
Headlamps and stars lit the route. Had hopes of spotting a sasquatch, but had to settle for satellites orbiting and shooting stars every couple of seconds. Squatch-free, but still not a bad way to spend a sleepless night.

Rest stop number 1. We figured when we got about halfway up we'd take 30 minutes to drink some water, have a quick snack, and get 10 minutes of shut eye. I popped off the boots, climbed into my Phantom 32 bag (lovin' this bag so far just based on the pack space it DOESN'T take up) and actually got a few minutes of sleep before a shooting star was so bright that it actually woke me up.

At around 3 or so the night went from pitch black to subtly lit from the east. This view of Adams and the distant light was with us for awhile. Would have loved to have had my good lens to take a few shots of this and blow one up for the wall.

Rest stop #2. Everyone still giddy with anticipation, lack of sleep and exertion yet to kick in

Mt. Adams again, an hour or so later. There wasn't much you could see to take pictures of, so I just took a lot of Adams.

This picture had potential with a different lens as there was just one lonely star left above some random, unnamed peak

By now the sun was starting to rise and St. Helens was kicking off a shadow.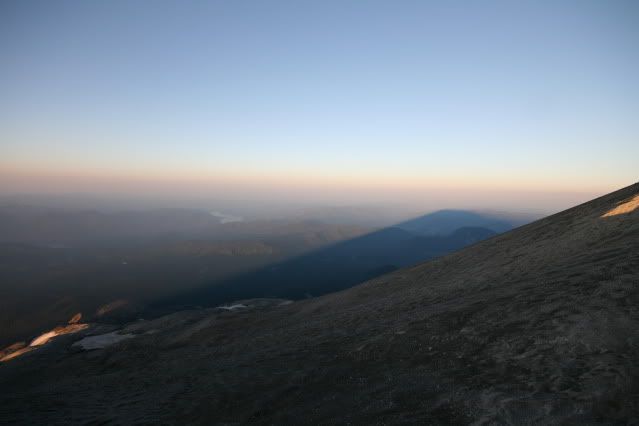 Two of our five dropped out about 1000 vertical feet from the summit. Lack of conditioning and false expectations of the hike's exertion had taken it's toll, and the ashy/pummicey last mile or so drove home the final nail. This is the other two that stayed with me reaching the post-1980 summit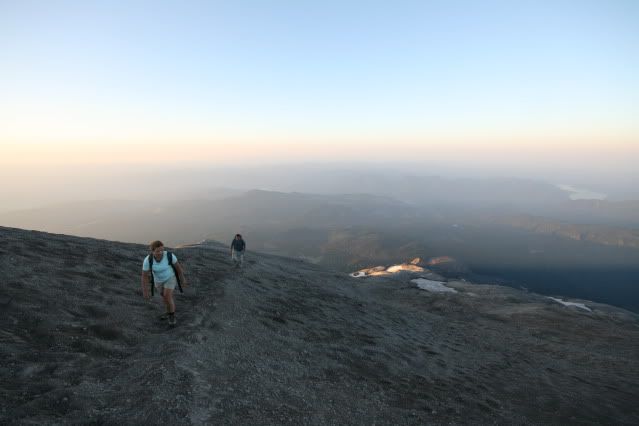 Rainier, Adams and St. Helens fangs

Looking into the gaping mouth of St. Helens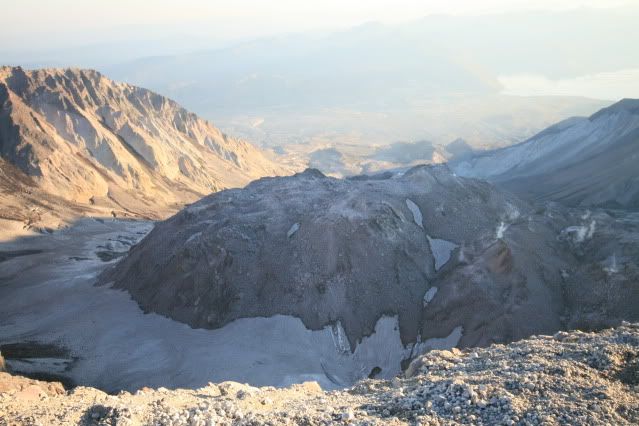 The strangest thing about being on top of St. Helens was that there was no sulfur smell. Every so often on the hike up you'd catch a subtle sniff on a breeze, so I expected the top to be a full-frontal sulfur assault on my nasal passages. No dice. There were little rockfalls going off all around the inside of the crater, which was cool as you really got a feel for how St. Helens is an active living, breathing volcano. Right about the time this picture was taken looking into the St. Helens sarlacc pit there was a loud crazy rumbling/loud boiling/generally 'shit is about to hit the fan' sound coming from inside the mountain that you could feel. We all looked at each other with a 'what should we do' look.
"Should we run?"
"Fuck it, if we stay here at least we can watch the rocks get spit out and try to dodge 'em."
The sound went on for a bit, and finally way down in the crater below we saw some MASSIVE boulders make a run across a snowfield and come to rest. The sound was just the rock avalanche, thankfully, but I admit there was a moment where I pondered the irony of my dad running medevac on St. Helens back in the day and his son getting snuffed out on the same mountain 30 years later.
Good hike overall, but mostly just to tick off the box next to St. Helens. I don't think I'd do the hike again in the summer as it's kind of boring overall. My hiking preferences tend to be spots that end at a cool mountain lake for swimming and fishing, this hike is pretty much hiking and scrambling over a barren landscape. I would DEFINITELY do St. Helens in the winter though.