"While Snowboarding I feel like I'm aligning myself with the universe."
Craig Kelly was, is, and always will be the man.  The most influential snowboarder of our time, Burton would not be where it is today had Craig never ridden for them and given his input on the product.  Even Terje refers to him as the best snowboarder to ever live.  Before the pro snowboarding scene became a scene – back when we were still more make blog than Perez Hilton – Craig was evolving his game, kicking ass and taking names.  And he took a lot of names on his way to influencing a lot of future names.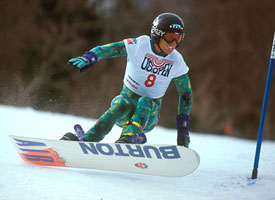 Baker Banked?  Yup.  In fact won the first one ever.
US Open?   Yup.  He won the slalom event.   Oh, and the halfpipe.  Oh yeah, and the overall title. In multiple years.
World Championships?  Yup, seven of 'em.
After tiring of the contest scene Craig evolved his game by going back to riding's roots and spent most of his time riding backcountry powder, and using his acquired knowledge to continue to move the industry forward.
"Snowboarding is something that I think should be done on your own terms as much as possible.  Society is full of rules and I use the time I spend in the mountain as an opportunity to free myself of all constraints.  During the past winter I decided that competing on the World Tour restricted the freedom that I found from snowboarding in the first place, so I decided to try a year with very little competing.  Now that I have recaptured the feeling that made snowboarding special to me, I am not about to give it up.  This is not retirement. I am simply revolving my snowboarding professionalism around freeriding rather competing.  It sure feels right."
Sadly a piece of snowboarding's conscience and soul was taken from us in a large avalanche near Revelstoke on January 20, 2003.
Obviously a nobody snowboarder writing a nobody blog can't do Craig Kelly's legacy justice.  But hopefully by bringing a little bit of awareness to him on this day, what would have been his 43rd birthday, some kid will stumble across this and Google his name and learn there's a bit more to snowboarding than what they are force fed every day.
Happy birthday Craig Kelly, and RIP.