So as mentioned in my Westcomb Rampage pants review my not even one year old Four Square pants lost a battle with my Black Diamond Contact crampons up at Lassen last Memorial weekend.  The worst part about it was that the crampons weren't exactly necessary, but as the boots I brought up there (Burton Hails) were so flexible I put on the crampons just to stiffen up the sole a bit to help me dig into the snow and walk.  I was pretty bummed about the pants as I'm a bit taller and it's hard to find pants that fit, but also because I'm cheap and had no desire to buy new pants.  Yes, I know these pants are 99% fashion and 1% function and were way out of their element, but it should be noted that my first pair of Four Square pants circa-1996 or so from when Peter Line and Ingemar Backman still owned the company and they had a lifetime warranty on their clothing lasted me until '06 (with an annual re-DWRing and a bit of thread on a zipper once)!  Of course they never faced a cage match with crampons.
Anyways, on to my one picture how to.  I wish I had the before picture so you could see how my pants had been disembowled and were puking their mesh liner and gaiters, you'll just have to imagine the tauntaun scene from Empire Strikes Back.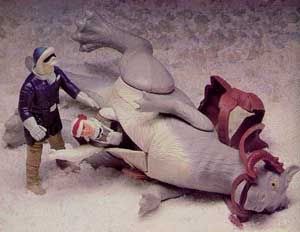 They looked shredded, but thanks to a sewing genius I'll call by her secret agent name 'mom' they were salvageable – in fact they probably have more street cred now with the uber-steezy exposed stitching. Basically they were patched with one of those iron-on/adhesive backed patches from the inside to hold everything together, than stitched up and down over the exposed fabric shreds to tie everything together. Good for at least a few more years of resort riding with just a regular re-application of DWR.