I've been sleeping on giving my reviews since posting a few teasers, mostly due to lack of time and mental capacity to write a long-winded and thought out review, and I apologize. This post nails the long-winded part, but it's a bit lacking in the thought out side of things. Also, I'll update this post later this evening with some photos I took last week that didn't make it to my computer to show the cuffs, belt and thigh pocket.
Marketing speak
The Westcomb Rampage HX pant is part of the 'HX Series' of clothing from Canadian outerwear manufacturer Westcomb. I'm not real sure what the HX stands for, I'm assuming the H is for hybrid as they are a mix of eVent for the bulk of the pants, with Schoeller Dynamic from about the knees up on the front of the pants for enhanced flexibility and breathability. The Schoeller is treated with their "Nanosphere" finish, which the company claims is a naturally self-cleaning fabric. I've yet to test that claim.
Fit
I purchased a pair of the pants in a large tall, which should fit someone with a 37″ waist and 33-1/2″ inseam according to their sizing chart. I would say that's spot on, and maybe a touch short on their inseam measurement (a good thing!) as I have to tighten the pants down in the waist but the length isn't too short, which was my initial worry as I usually wear a 34-36″ inseam depending on the garment. The fit is a happy medium between an athletic (read: tight fitting mountaineering cut) and a slightly baggier fit. The only bother on the cut is that I'd like the legs to be a little wider to more easily fit over my boot/bindings, but that's only because I've been wearing them a lot inbounds this year since my Four Square's met an untimely fate against my crampons. For OB work the leg size is perfect.
One thing to take note of is that I've heard anecdotally is that their quality control across the same line of product is inconsistent and they are prone to size fluctuations for the same make/model/size of a particular garment. I haven't fondled enough of their product to confirm/deny these rumors, but it's worth keeping return policies in mind if you're ordering any Westcomb product from an online vendor.
Build
The Westcomb's seem well built for the most part. They are a stripped down, no nonsense pant – don't buy them if you're looking for something with internal gaiters and a million bells and whistles. A thin strip of velcro and toggles around the leg are your options for tightening around your boot, full zip legs, a magnetic clasp with built-in belt around the waist, and a single pocket on the right thigh is all you get.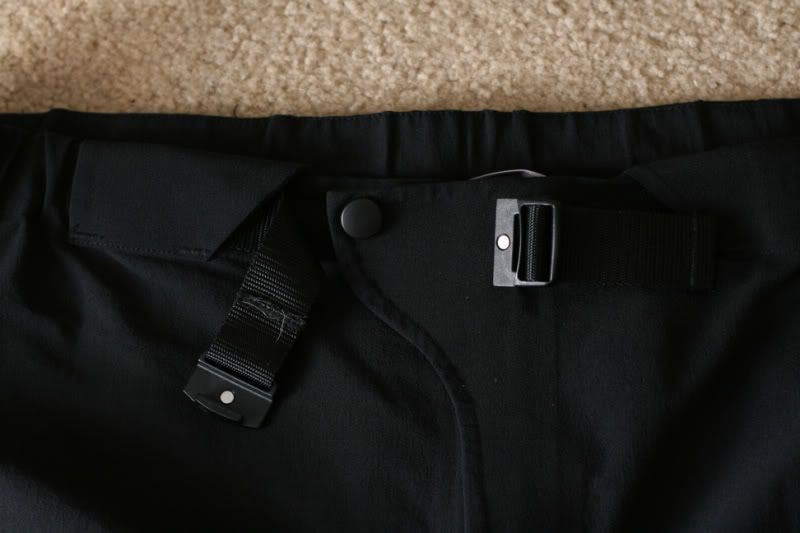 It's initially shocking how light eVent is, especially when you're used to a heavier weight/old school North Face cordura-esque fabric on technical garments (yeah, it's been awhile since I've bought tech outerwear). Westcomb claims reinforced high impact areas, which I assumed meant a heavier weight fabric, but it must mean reinforced stitching as the reinforcements aren't outwardly visible. This was one my only real concern with the pants on first open as there is no reinforcement on the inside of the legs to fight off crampon and edge scuffs. As I assumed these would be used primarily by backcountry skiers/snowboarders, as well as climbers, I found the omission a bit odd.
Performance thus far
Thus far I'm mixed on the pants. I will say outright that I love eVent thus far though! It's seriously more breathable than anything I've ever used. I'm typically a heavy sweater (as in open your pant legs or jacket and watch buckets of water fall out) and have yet to get more than ever so slightly damp while doing heavy climbing (and in that case I was wearing a heavyweight underlayer, wrong tool for the job that day), and I'm usually able to get ahead of the damp curve by unzipping the vents when I see a steep climb coming. The only downside I've experienced with these pants to this point is the insides are already starting to shred and I've yet to use them with crampons. Merely the occasional edge nick (it should be noted I never tune my boards…) while touring has caused a lot of surface tears, and even one tear fully through the eVent membrane that you may/may not be able to see in the mediocre photos below.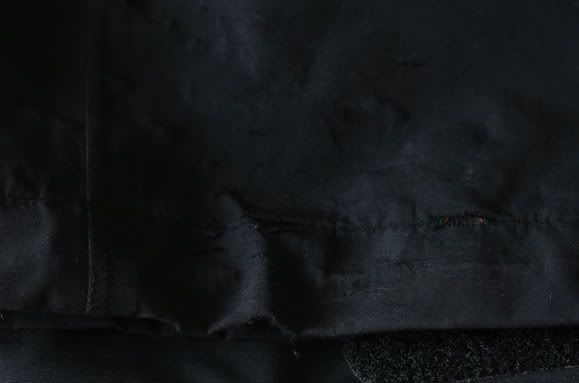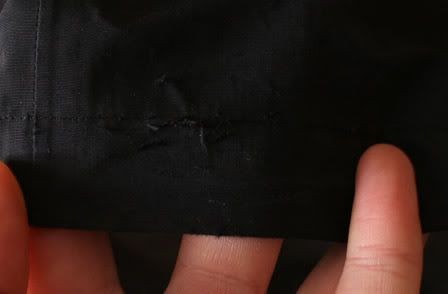 I emailed Westcomb to see if they can put a reinforcement on the cuff for me as I didn't want to bring it somewhere locally and void the lifetime warranty on the pants, and to their credit they responded (albeit it took 2+ weeks) saying that not only will they do what they can but that they'd even pay for the shipping back to them! Pretty good customer service, I've yet to send them though as I have some spring descents planned – will obviously update once I do send them in and see what they do.
Summary
Overall the pants are almost exactly what I was looking for when I ordered them, except for the lack of cuff reinforcement. As Westcomb is a newer company, and doing all their manufacturing in Canada (that's right, their product is NOT manufactured offshore, amazing in this day and age), I'm willing to give them a bit more leeway than I otherwise would. I should add that I picked these up for $110 (screaming deal!) on closeout, had I paid full price my tone would be slightly different. I'm hopeful they'll make it through the spring without too much more damage, after which time I'll take up Westcomb on their offer to modify the pants.
Also, if there's anything you'd like me to include/exclude in future reviews let me know either via email or just leave a comment.
If not available to you locally you can pick up Westcomb products at a few online vendors, though neither have a terribly deep selection. Backcountry.com and Oregon Mountain Community both carry Westcomb and are good retailers, though like always I suggest trying to give your local shop the biz first.