Up next in the 2011-2012 splitboard looksee are the offerings from Prior. Designed and built in Whistler, Prior takes a slightly different approach from most and sells custom boards direct to the consumer, as well as have a network of dealers so you can touch/feel/fondle locally. If your local shops don't carry Prior splitboards you can pick them up online at REI.
Prior has two levels of customization. The first is their standard that you can order online – choose a topsheet, base graphic, core layup (a $200 XTC Carbon option in lieu of their standard Quadglass construction) and tune (optional $50 'Pro Tune'). But, you can get as wild as you want and unleash your inner control freak on your board with the ability to modify flex, width, taper – hell you can provide your own art for your topsheet and base graphic if you want to pay for it! Pretty insane when you think about it. A list of the price additions you can expect to see are below.
Description C$ surcharge
Custom flex (softer or stiffer) $70
Narrowing waist $70
Widening waist $150
Taper changes $70
Custom templates $200
Single topsheet $300
Custom base $300
Prior Fissile Splitboard
New to the Prior lineup this year is the Fissile. To me the shape of the Fissile is reminiscent of a good ol' fashioned snowboard and wouldn't look out of place with a nose rope, but in this day and age sounds like a quiver board. This is a powder whore's weapon of choice – huge rockered nose, cambered tail and short radius sidecut – tree slalom to bowl slaying, the Fissile will get 'er done for you. MSRP of $999, but depending on options can go up from there.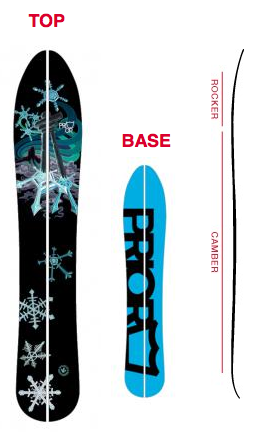 Prior Brandywine Splitboard
Next up is the Brandywine, an all 'rounder with Prior's Hybrid Rocker construction which puts camber between your feet and rocker on the nose/tail. Prior designed the Brandywine for those smaller in stature (remember, the board doesn't know your gender). Winner of a Backcountry Magazine Editor's Choice award for 2012, where they said "If you want to ride harder and faster, this is your board. Quiver of one!" MSRP $899 and up
Prior AMF Splitboard
AMF stands for All Mountain Freestyle, the hybrid rockered/twin shaped BAMF in the Prior linup. Unchanged for 2012 this two-time BC Mag Editor's Choice winner could be your savior if you're a backcountry/sidecountry rider with spinjibbonking skills that I sadly lack. MSRP $899 and up
Prior Swallowtail Splitboard
What's the first thing that comes to mind when you think swallowtail splitboard? Beardos in earflap hats grinning ear to ear with snow walrus tusks at the bottom of a big, fluffy bowl, obviously. 'Nuff said. MSRP $999 and up
Prior Backcountry Splitboard
A classic (especially in the old black totem topsheet), the Prior Backcountry utilizes their hybrid rocker construction in a board built to take on whatever the mountain brings. Pow in the AM, crud in the PM? Check. A quiver board for those with a quiver of one. MSRP $899 and up
Prior Khyber Splitboard
A pow focused board with a traditional look to it, on first glance it doesn't look much difference than the rest of their lineup. The Khyber has a long, fat nose and massive amounts of taper (25mm in the 165 board vs. 4mm in the Backcountry of the same size) to keep you on top of the fluff. MSRP $899 on up
Don't forget to check out the rest of the 2011-2012 splitboards, and keep checking back a we're adding more daily!