Was looking through the interwebs this AM, trying to find sneak peeks of 2013 gear that'd be relevant or interesting for the blog, and came across Switchback Bindings. To be honest I like the simplicity of their grinning highback logo, and the modular binding idea will go off in this day of 'my pro model socks need to match my pro model headphones need to match my pro model google straps need to contrast with my pro model binding hardware'. I think they'll sell like hotcakes.
HOWEVER what stood out to me was all their talk of going no-back, ya know for the freedom, the surfy feel, the (insert hyperbole here) and I thought "AH-HA! Finally my old age experience will come in handy and I'll look to the past to rehash something that will redefine snowboarding as we know it. BOOM!
Step 1: Look back to the past for a future 'new' idea
Step 2: Profit
Step 3: ????
So, I present to you my top-5 'amazing ideas that will bring a whole new level of marketing fun to snowboarding!'
1. Baseless bindings. This one is a no brainer, someone says no-back and I instantly think baseless. I'm not talking Burton ECS IST or whatever (it's not baseless if there is a shock absorbing pad there brah), I'm talking real deal Holyfield baseless and the limited stance options that come with it. Like Trojan Ultrathin condoms these babies are all about broad board feel. Possibly even surfy feeling.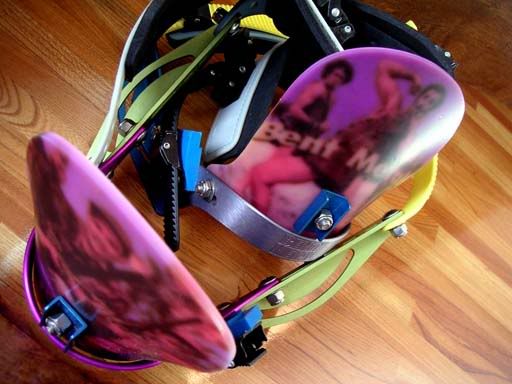 2. Step-ins. Switchback is going to remove back highbacks, my baseless bindings are going to remove the bases, what else can we remove? The straps, naturally. Save that annoying 5 seconds you spend ratcheting into your bindings and instead just step down. At 5 seconds saved per run times….umm….a lot of runs you'll have hit one more run!  My marketing team industrial designers are still working on our final look/feel for these babies so not sure if we'll be going baseless or no-back, but rest assured it'll turn your strap using frown upside down. #PROFIT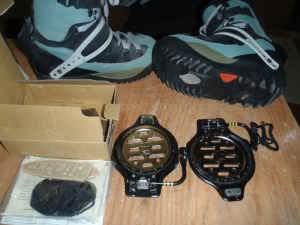 3. Hardboots for pipe. #OFKYEAH For those of us you don't like the responsiveness, or lack thereof, from our baseless nobacks (what? You no like boardfeel?), THESE are your holy grail. Hell, I'll make sure my marketing team markets the plate bindings as no-back so you've got additional new technology to talk about around the snowboarding watercooler.
4: No boards Let's just remove the bindings from the equation altogether. No boards, or as our forefathers (or fourfathers if your mom didn't use those Ultrathins…) called them snowboards. Actually, these look like they'd be fun on the right day – say if you had a cabin in the mountains with a nice little hill behind it, keg in the snow at the bottom, just chillin' with your crew and taking laps on the no board – and they're likely the closest thing we're getting to what McFly has had us all dreaming about since '85.
5. Camber Run out of 80s/90s ideas to cop? Just go back a few years and take the idea you wrote off in all your marketing material last year, add it to a board for 2013, and market the hell out of it, capitalizing on the short term memory of the American consumer. #STEP2BABY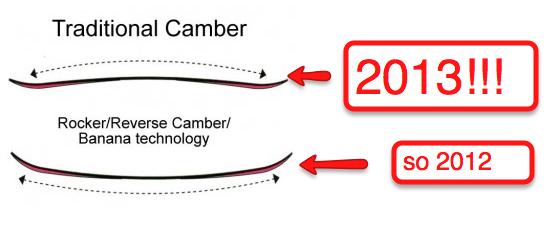 Honorable mention aka coming in 2014: Ballz jeans, two-tongue boots, Sorels, dual edge snowboards, 'Boycott Burton cuz you can't patent fun' stickers, USA manufacturing