So first, let's just get it out of the way now – if you saw a guy that looked like anybody in the below pictures on Adams a week or two ago but rode like a total chump it wasn't me. I swear.
Anyways, Mt. Adams is the second highest mountain in Washington state, aka Mt. Rainier's easy little sister that gets no love. Got the call from my buddy Steve that one of his clients and his friends were going to hit Adams and that they had a spare pass. As soon as I heard the client's friends had done Everest I was there as I thought they'd be interesting to talk to.
The drive from Portland to Adams was uneventful outside of the fact that we started four hours later than expected. Thus, instead of getting to Cold Springs at 5PM we rolled in at 9PM. As seems to be my thing with Cascade volcanoes it'd be a headlamp and moonlight hike to Lunch Counter.
One of our first glances of Adams.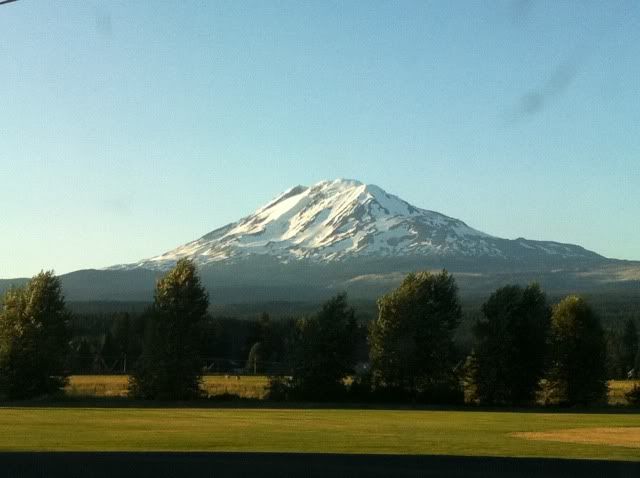 Sunset from Cold Springs area
Hike to Lunch Counter was as uneventful as it could be for two people that had never been there before hiking after sunset. The moon's reflection off the snow was bright enough that the headlamps weren't needed outside of the time Steve needed to fix a blister (note: it's damn stupid to try new hiking boots out on a major hike). Hike started off as dirt but quickly became snow and intermittent volcanic rock. Fortunately the snow was just about perfect for hiking – t wasn't frozen, so no crampons needed, and it wasn't midday soft so we weren't postholing.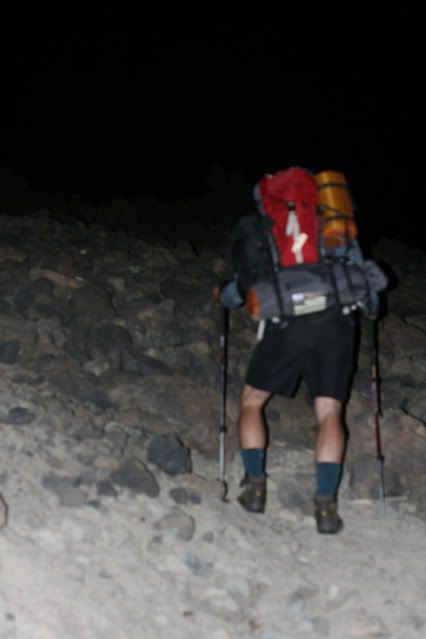 Made it to Lunch Counter around 1AM, setup camp, attempted a few failed night photos, and climbed into my Mountain Hardwear Phantom 32 to attempt to get some ZZZs. Attempt failed. Tossed and turned all night (for some reason I seem to never sleep well at altitude, but part of it may be due to excitement??), listened to small rock slides being started by others climbing into the night, finally day broke and I gave up. Woke up to a BEAUTIFUL alpine morning though! "HOLY SHIT" was about all I could think when I climbed out of the tent. As we'd climbed by moonlight we had no idea what, if any, view we'd have from our spot, and as I hadn't slept in the alpine in awhile I forgot how blue the sky can be. We took photos like a bunch of Japanese tourists.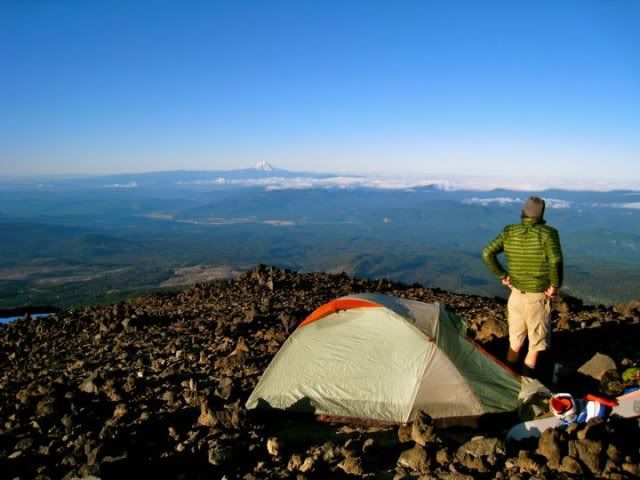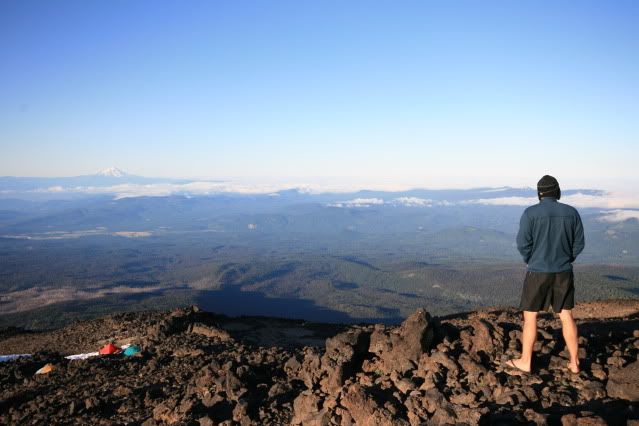 A little GoAm AM panoram. Yes, it was a beautiful morning.
Untitled from Justin H on Vimeo.
We fueled up on a few deflated, crumbled donuts I brought for the occasion and got an early 9AM alpine start. From Lunch Counter to the summit it's pretty uneventful, more or less a staircase to the summit. We switched to crampons and ice axes after the first 1/2 mile of mixed surface for the extra security they provide on the way up as some spots were a bit steep and the slide down would be miserably long. Surface was still perfect, not too firm, not too soft, but the suncups were ominous and I was starting to realize lugging a snowboard all this way would not payoff.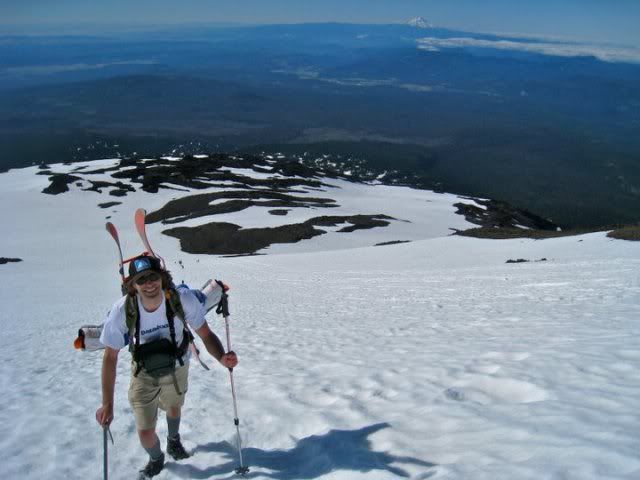 We stopped briefly at the false summit to reapply sunscreen and fuel up for the last short bit to the summit. Also threw on jackets as the wind was no longer blocked and it was actually getting chilly. Finally, 3 hours after leaving Lunch Counter, we joined the party on the summit. The prerequisite photos were taken.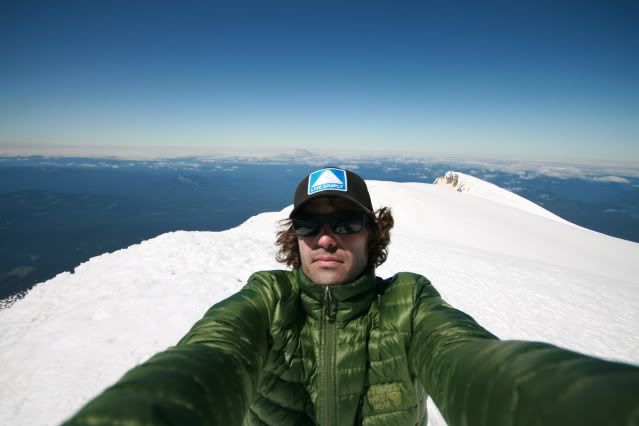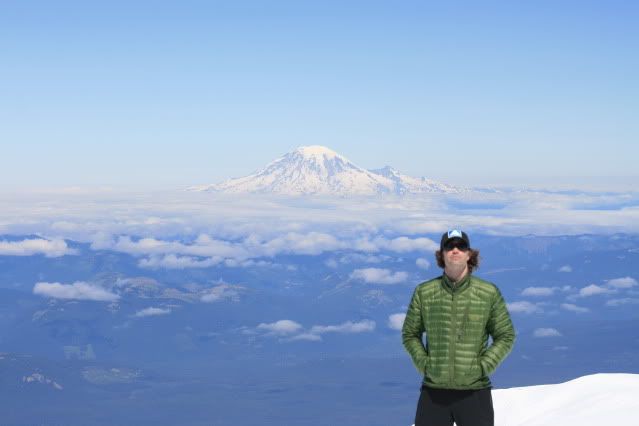 From there it was all downhill. I converted my board to board mode and 'enjoyed' the miserably suncupped turns on the way down. I'd heard the southwest chutes have been smooth, but as I had to be back in town for something and didn't want to wait around on the summit for a few hours for them to soften decided to take my lumps through the suncups. Steve took the smarter route and glissaded down. The glissade tracks on Adams are INSANE, looks like bobsled runs all around the mountain and you can literally go 3k+ vertical feet on your ass should you choose.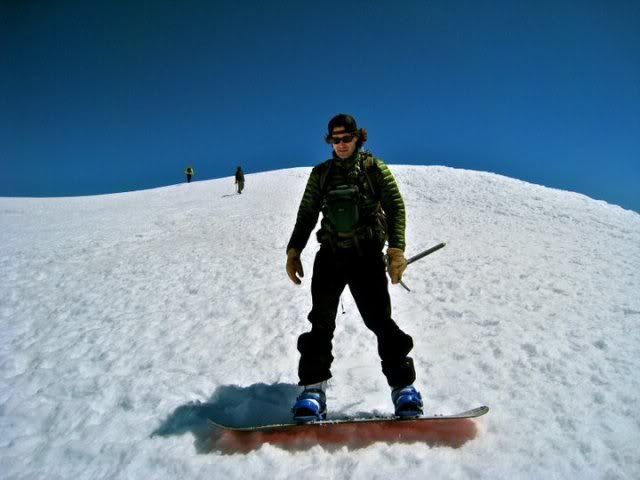 Steve's glissade POV. A touch washed out due to lack of polarizer and blazing alpine sun.
Untitled from Justin H on Vimeo.
The hike out was uneventful, but sadly the snow had softened considerably so there were more than a few moments with unexpected 'oh shit hope my ACL stays in place' slides, postholding, and sweating your balls off as the sun was radiating off the snow.
Short gear list and 10 word reviews:
Tent: REI Arete 2 – Heavy, but recreational level bomber tent
Boots: Salomon Wings Sky GTX – Most comfortable boot ever, not great with crampons (obviously)
Pack: Mountain Hardwear Koa 55 – Comfy until overloaded and used as unintended, than it's a bit less so
Crampons: Black Diamond Contact Strap – Versatile, can go from hiking boot to snowboard boot and back