I've been refining and updating my gear lately (which is a bit odd given the lack of income), and recently acquired both the ever popular Patagonia Down Sweater and the Mountain Hardwear Nitrous down sweater. Let's get these two into the ring and see who is left standing!
Quick overview:
Current champ: Patagonia Down Sweater:
Probably the most popular thing in Patagonia's product line, odds are you or one of your friends owns this jacket. The Patagonia uses a DWR coated, windproof and 100% recycled polyester ripstop shell with 800 fill power down. The Patagucci also sports two zippered external fleece lined pockets and a zippered internal mesh stretchy pocket that doubles as a stuff sack that you can never lose. Elastic cuffs and a drawcord waist complete the Patagonia's features.
Challenger: Mountain Hardwear Nitrous
The Mountain Hardwear Nitrous down sweater doesn't have the storied history and popularity of the Patagonia, but is a fine jacket nonetheless. The Nitrous uses Mountain Hardwear's 'Ecosensor Ripstop' for it's shell, and 800 fill down. Ecosensor is a DWR coated ripstop polyester consisting of 13% (not 12%…not 14%, but 13) recycled polyester. Like the 'gucci the Nitrous sports two external handwarmer pockets, however they are non-zippered. The Nitrous also has an external zippered chest pocket and chamois lined collar to eliminate zipper rub on your windburned face. Elastic cuffs, waist drawcord and easy to lose (not permanently attached) stuff sack round out the Mountain Hardwear's features.
Weigh in:
Patagonia claims a 12.4 oz average weight and gives no fill weight. However, they do mention their fabric is 1.4 oz./yard, so we'll assume it's an average fill weight of 11 oz. Mountain Hardwear claims an average weight of 12 oz. for the Nitrous, and the EcoSensor weighs in at 1 oz./yard, so we'll assume 11 oz. of fill as well. I don't have a scale, but I can say they both feel damn light. Anecdotally I'd say the Patagonia outer fabric FEELS more substantial and up to abuse, but as I haven't had an issue with either that's just me talking about my ass. Both shells leak about the same amount of feathers, so no advantage to either.
Round 1: Place of manufacture
Both garments are made in China. Let's take a minute to celebrate the irony that is the American consumer's desire for low priced products, thus driving manufacturing offshore, while simultaneously complaining about jobs lost to foreign countries.
10-10 round (yeah, when's the last time you saw a 10:10 round?)
Round 2: Features
The Patagonia uses a 100% recycled shell AND is windproof. Because I'm fond of Earth I say advantage Patagonia by way of 100% being greater than 13%.
Both use 800 fill power down. Even.
Both have elastic cuffs, drawcord hem and lined pockets. Even.
The Patagonia has zippered external pockets, the Mountain Hardwear does not. Since one of the pocket zips on my Patagonia Down Sweater vest blew out within a week of owning I'm giving this one to Mountain Hardwear
The Nitrous has a chamois lined chin, Patagonia does not. Advantage MH.
Stuff sack – can't lose the 'gucci, the MH's you can. Advantage 'gucci, though I'm gonna say it doesn't count for much because the MH basically nets me a stuff sack I can use for other purposes.
This was a close round, but I'm going to give it to MH by way of not being a fan of the 'gucci zips and the fleece lined collar. 10-9 round.
Final round: Fit
Fit is where the Nitrous KILLS it over the Patagonia for me. I'm about 6'4, 200 lbs, and the Patagonia just fits boxy, like plastic bag, whereas the Mountain Hardwear has a nice athletic cut. However, if you were built more like a fireplug and less like a swimmer the Patagonia may be more up your alley. 10-8 round and pure domination by Mountain Hardwear for my body type, YMMV.
Final score:
While the Patagonia Down Sweater put up a good fight with it's 100% recycled and windproof shell, the Mountain Hardwear ultimately took a close fight with it's total domination in fit. 30-27, final. Honestly though, you can't go wrong with either jacket. Both have lifetime warranties and are well made, it really comes down to fit (and possibly color options).
As everyone has seen both of these items I'll just throw a couple quick unscientific pics up highlighting the sizing (sorry can't try 'em on and shoot a photo for fit comparisons as I broke my tripod) differences. Note that both are size large.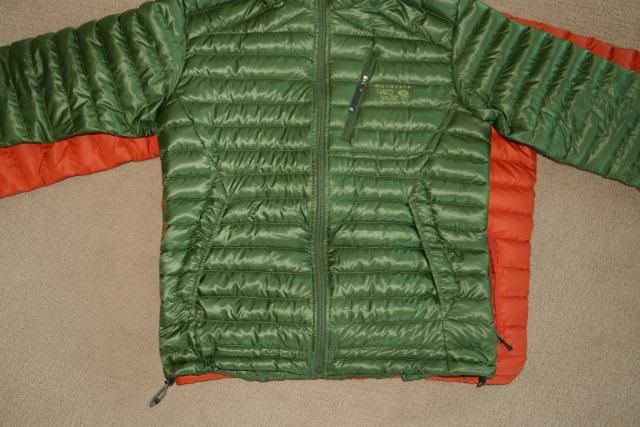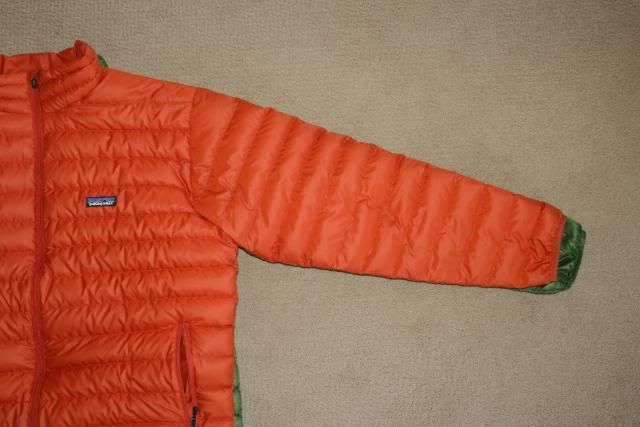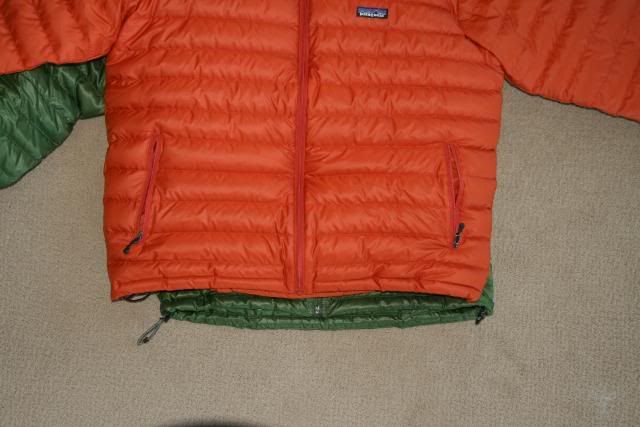 Looking for a Patagonia or Mountain Hardwear down sweater?  You can find them at Backcountry.com, evo, Mountain Gear and REI